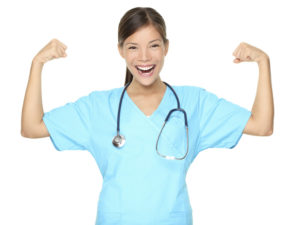 Steps to Pursue a Nursing Career 
When you first decide to pursue a nursing career you'll discover the first step is obtaining a solid education, whether or not you desire to be an LPN, RN, or administrator. All states in the US and the District of Columbia require students to graduate from an accredited nursing program to become licensed.
Step 1:
Choose Your Career Path as a Nurse
Choose a nursing career path Nursing can take you in lots of directions, from beginning out as a certified nursing assistant (CNA) to operating your way up to nurse administrator.
When deciding on your professional path, consider the work environment in which you prefer. For example, RNs can be placed within  hospitals, medical doctors' offices, and other medical settings, but certified nursing assistants regularly work in nursing facilities. What type of work environment would help you to reach your maximum potential?
Because there are so many variations in health care, nurses frequently focus on becoming specialized in different areas, such as geriatrics or critical care. If you find you are passionate about a certain type of nursing, keep in mind the type of education you'll need to get there.
That brings us to the following step in becoming a nurse:
Step 2:

Earn Your Nursing Degree
Earn a degree The professional route you decide on will undoubtedly play a factor into the type of nursing diploma/degree you would need to obtain. Nursing programs often have classroom/textbooks as well as clinical experience.. The latter will allow you to gain hands-on expertise, ask questions in real-life scenarios, and help you to connect with others in the nursing field. Additionally it will also give you the opportunity to observe how a medical facility runs.
Before selecting a program, determine how nursing school will match into your busy lifestyles. Will you have time to get to campus? Many nursing bachelor's and master's degrees may be earned on-line (with clinical necessities completed in your local community).
An associate's degree takes less time to finish, allowing you to start your nursing career sooner. The downside? Employers can be more apt to hire on a nurse with a bachelor's degree due to the fact they acquired a more in-depth schooling. However, lots of nurses with ADNs are still able to obtain a higher degree with the help of tuition compensation from their employer.
The following list details the types of nursing degrees available:
Nursing diplomas are offered at community colleges and vocational schools.
Associate's degree in nursing (ADN) can be earned at community colleges.
Bachelor's degree in nursing (BSN) are available at colleges and universities.
Master's degree in nursing (MSN) are available at colleges and universities.
Doctoral degrees (DNP, ND, PhD, DNSc) are available at colleges and universities.

Step 3:
Get Certified As A Nurse
Get certified Once you obtain your degree, you'll need to take an exam to showcase your expertise and nursing capabilities. Nurses need to be licensed to be able to practice, and exams are the prerequisite to licensing. The NCLEX exams, other certification exams, and the subjects covered, differ primarily based on your selected career path.
To come to be a licensed certified nursing assistant (CNA), you'll be required to pass a state competency examination.
Licensed practical nurses (LPNs) are required to pass the National Council Licensure Examination (NCLEX-PN).
RNs and all advanced practice registered nurses (APRNs) are required to take the National Council Licensure Examination (NCLEX-RN) to earn licensure.

Nurse practitioners are also required to pass a national certification exam administered by means of a professional organization.
Upon finishing their education, nurse midwives will take an exam administered by the American Midwifery Certification Board (AMCB), at the same time as nurse anesthetists ought to pass the examination given by the National Board of Certification and Re-certification for Nurse Anesthetists.
After you start your nursing career…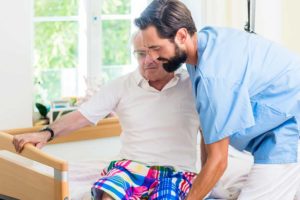 Continuing Your Nurse Schooling Programs:
Nurses are required to complete education courses, usually every two years. Check with your state nursing board for requirements.
---

Get certified: If you decide to focus your expertise on becoming specialized, remember earning expert certification. This cements your dedication to the sphere and demonstrates your talent set to employers.
Advance your degree: Earning a master's degree will qualify you for a career as a nurse practitioner, clinical nurse specialist, certified nurse midwife, and authorized nurse anesthetist.
For the Career Changer: Accelerated BSNs
You want to pursue a nursing path, however your history is in finance. No hassle. Not all RNs start out in nursing. Motivated by using job dissatisfaction, salary, and other reasons, some RNs pick out to go back to school and earn a bachelor's degree in nursing, however who has the time and money to invest in yet another 4 years of college? Enter the accelerated BSN.
Accelerated BSNs are designed especially for students who've already earned a bachelor's diploma in another field.
While you could have to finish certain science and math prerequisites, acclerated BSN students aren't required to take general schooling courses again. Instead, the acceleration program (typically approximately 18 months) focuses completely on nursing abilties. Students graduate with a BSN and ought to be prepared to take the NCLEX-RN.
---

Career changes within nursing
Nursing is infamously profitable and tough at the same time. After years of bedside care, a few nurses look for a career switch in the same field. Often, going back to school is the manner to make a change.
Specialize: Earning a master's degree permits you to choose a specialty such as midwifery. If an MSN isn't what you're looking for, sign up in a certificates program, which takes less time to complete. From there you can pick out from quite a few nursing specialties.
Teach: If you revel in guiding new nurses inside the workplace, chances are you are probably in good in shape as a nurse educator. Colleges and universities hire nurses who hold a master's or doctorate to teach nursing courses.
Research: A Doctor of Nursing Philosophy (PhD) or Doctor of Nursing Science (DNSc) qualifies you to work in medical/clinical research. Your findings could potentially help make advances within the nursing profession.
Levels of Nursing
There are few career paths that offer both the opportunity for advancement and career diversity as nursing. A complex health care system creates a wide range of opportunities for nurses. And, as more patients are starting to seek for specialized approaches, nurses can fill this demand through gaining greater schooling, which regularly equates to a better salary.
Entry-level nursing
Entry-level nursing gives several profession paths. Which one fits your goals?
Certified Nursing Assistant (CNA)
Job duties:
CNAs assist patients with every-day responsibilities, such as bathing and feeding. They also answer patient calls, smooth rooms, and are accountable for recording facts and reporting troubles to a nurse.
Degree needed:
Post-secondary certificate or diploma (4–12 weeks)
Median annual salary*:
$28,530
Become a CNA if:
You want to enter into the nursing field quick and gain treasured on-the-job knowledge and experience.
Licensed Practical Nurse (LPN)
Job duties:
Under the supervision and preparation of an RN, LPNs—also known as licensed vocational nurses in California and Texas—offer patients with fundamental care, including dressing, changing bandages, and bathing. Some LPNs are permitted to administer medication but this relies upon state regulations.
Degree needed:
Certificate or diploma (1 year)
Median annual salary:
$46,240
Become an LPN if:
You want to work in nursing sooner instead of later, but desire to turn out to be an RN one day. Many RN degree programs give credit for LPN experience.
Registered Nurse (RN)
Job duties:
RNs coordinate patient care, administer medication, assist doctors with assessments and surgeries, educate patients, promote wellness, and manage different nurses and LPNs.
Degree needed:
Associate's (2 years) or bachelor's (4 years)
Median annual salary:
$71,730
Become an RN if:
You're interested in a diverse work experience, capacity for professional growth, and in addition educational opportunities.
Advanced nursing
Advanced nursing programs require college students to preserve a bachelor's diploma earlier than enrolling. Many students earn their BSN from one school and attend a special faculty for his or her MSN. However, bridge programs permit students to earn 2 degrees at the same time from a single school. An RN-to-MSN curriculum is designed in a way that college students obtain their undergraduate education first and then pass on to MSN courses.
Certified Registered Nurse Anesthetist (CRNA)
Job duties:
Nurse anesthetists work with patients before, during, and sometimes after medical procedures to ensure the patient is free from pain. They decide the quantity and sort of anesthesia needed—general, local, or regional—as well as the approach for administering anesthesia.
Degree needed:
Master's diploma (2 years)
Median annual salary:
$167,950
Become a nurse anesthetist if:
You like to work as a part of a team beneath the supervision of medical doctors, or independently, depending on the laws of you state.
Certified Nurse Midwife (CNM)
Job duties:
Nurse midwives offer prenatal, postpartum, and newborn care. You will help and care for women throughout there pregnancy. Nurse midwives also educate families about health and wellness. If major complications arise, you'll refer women to a physician.
Degree needed:
Master's diploma (2 years)
Median annual salary:
$103,770
Become a nurse midwife if:
You want to focus on health care for women and infants.
Nurse Practitioner (NP)
Job duties:
NPs function as primary care providers to patients of all backgrounds. Nurse practitioners can diagnose illnesses and prescribe medication, however a part of the job of an NP is to help patients t understand the importance of preventative care as well.
Degree needed:
Master's diploma (2 years)
Median annual salary:
$107,030
Become a nurse practitioner if:
You're interested in providing more comprehensive care to patients.
Nursing Informatics
Job duties:
Training other nurses on new technology is just one part of a nursing informatics job. You'll additionally spend time on system development, quality control, and locating new approaches use data. Patient confidentiality is prime as is efficiency within the workplace.
Degree needed:
Bachelor's (4 years) or master's (2 years)
Median annual salary:
$88,270 for clinical informatics coordinators, as a part of the bigger organization of computer systems analysts
Become a nurse informatics specialist if:
You want to mix your tech-savvies with a advanced nursing profession.
Nurse Leadership / Nurse Administration
Job duties:
From creating work schedules to managing finances, nurse directors juggle many responsibilities. You'll control the nursing personnel, but also analyze service, look for ways to cut expenses, and monitor the usage of resources.
Degree needed:
Bachelor's (4 years) or master's (2 years)
Median annual salary:
$99,730 for medical and health services managers
Become a nurse administrator if:
You want to be instrumental in enhancing patient care whilst managing the commercial enterprise facet of a medical facility.
Job Outlook for Nurses
According to the American Nurses Association (ANA), there are more than four million registered nurses inside the United States. Yet, there's nonetheless room for more.
RN WORKFORCE BY 2026
according to U.S Bureau of Labor Statistics
Increase of
438,000 JOBSFactor in the quantity of nurses who will
leave the field all through this time
and there may be
1+ million jobs
By 2026, it's expected the RN group of workers will see a growth of 438,000 jobs, in step with the U.S. Bureau of Labor Statistics (BLS). When you factor inside the wide variety of nurses who will leave the sector in the course of this time, there will be greater than 1 million job openings by way of then.
It's commonplace to hear about America's nursing scarcity, however additionally be warned the job marketplace is tight. If you're interested in a nursing career, which story should you believe?
The answer isn't black and white. Here's a look at the factors that make both eventualities true.
Positive Factors
More Jobs: Nursing shortages exist in a few regions of the country.
Spurred by means of the Affordable Care Act, more sufferers input the health care system
Baby boomers are living longer, in want of care
Specialized nursing is developingNegative Factors
Less Jobs: Nursing surpluses exist in some components of the united states
Employers put into effect hiring freezes or layoffs due to recession
Nurses postpone retirement
Interview technique is rigorous and competitive
Where ought to you search for increase? In an ANA 2016 survey, respondents said they see increased opportunities in primary care, public health, nurse education, and advanced practice.
Want to make yourself greater marketable? Here are some tips:
Be diversified in multiple languages: Many hospitals seek out nurses who know more than English, with Spanish being in the maximum demand.
Get certified: If you have knowledge and skills in a specialized vicinity, secure professional certification.
Be flexible: Be open to working for various employers, even when you have your heart set on one in particular. The experience you benefit can be priceless.
How to Find Jobs as a Nurse
You've graduated from school. Now, you need to know how to find jobs as a nurse. While you can take the traditional course of sending resumes to employers and wish for a call, there are savvier options that might assist you land a nursing gig. It's essential to notice that new nurses occasionally have issue due to the fact employers regularly search for more experienced body of workers.
NetworkingIn most careers, including the nursing field, it's about who you know. Start through joining your nearby chapter of the American Nurses Association. By attending activities held via the chapter, you'll have an opportunity to meet nurses in your area. Make contacts with others and if there's a task opening at their workplace, they might consider you first.
Specialized nursing associations, which includes the Emergency Nurses Association or the National Association of School Nurses, also have chapters.
Another networking option? Join a registered nurse meet up in your vicinity.
Find states with nursing needs
Some states are hit tougher than others with the nursing shortage. If you're not tied to your modern-day location, shifting to a state that needs nurses could probably open doors to job opportunities.
Research shows that certain states will see a shortage inside the coming years, whilst best 2 states are projected to revel in a surplus (Massachusetts and South Dakota).Looking at the lack through region, the West and the South will be toughest hit.

Military nursing jobs
The military is also a great opportunity nurses can take as they construct their profession. A few viable task possibilities within the military consist of critical care nursing, OBGYN nursing, family nurse practitioner, and public health nursing.
As a military nurse on active duty, you can work overseas, on a ship, or on a base. You can also choose to enlist within the reserves. This permits you to continue working at home and serve when you're needed.
Concerned about how you'll pay off your nursing faculty loans? As a nurse within the military, you could qualify for loan repayment.
Become a health care volunteer, Volunteering is another great networking opportunity. Giving some time to a health care facility will give you experience with patients in medical surroundings, and undoubtedly help you to meet other health care professionals.
If you intend to pick a nursing specialty, search for volunteer possibilities in that area. While you won't be paid on your time, treat the experience as would any other job. Making an excellent affect could imply a professional connection in the future.Making connections during your clinical's
When it's time for you to complete clinical rounds at some stage in school, you'll in all likelihood be assigned to a hospital where you'll shadow a nurse (preceptor). During this period, be an attentive learner and showcase a wonderful attitude. Make connections together with your preceptor or even their managers. If a role opens up, they will be greater inclined to advise you of the job opportunity.
Once your clinical ends, stay in contact with your preceptors as they may be a terrific aid for job opportunities.10 Growing Nursing Specialties
Technology, advocacy, and education are only some areas where nurses can excel. Here's a take a look at 10 developing profession paths.1. Nursing informatics specialist
Nursing informatics gets more attention in today's technology-obsessed world, but the area has been round for numerous decades. In the 1980s, nurse informatics specialists dreamt of massive things:
"We envisioned such things as minimal time spent in documentation, working together with patients to document past history and care received, a lifetime health care record, and the use of aggregated data to improve nursing practice.""Informatics, we believed, would free nurses and other health care professionals to spend more time with patients and minimize the pain of documentation."
Linda Thede, PhD, RN-BC.
While informatics has truly changed the nursing landscape, professionals say there may be greater work to be done. As electronic fitness information and mobile technology end up the norm, nurse informatics is a field full of possibilities.
---

2. Virtual nurse
Nurses have masses of tales to share about a patient treating a health problem primarily based on information they discovered on the internet. As a virtual nurse, you could provide valid, correct guidance and care on-line or over the telephone. While the job ordinarily offers with basic care, virtual nurses may additionally specialize in a certain area.
Virtual nurses need at least an ADN or BSN and have to be excellent communicators.

3. Nurse midwife
Nurse midwives go past delivering of babies; additionally they serve as primary care providers for both women and newborns. Because they are highly versatile, greater nurse midwives are needed. The BLS expects 21% job increase via 2026, which is three times faster than common.
According to the National Library of Medicine, nurse midwives were instrumental in improving primary health care services for ladies in inner-city and rural regions of the united states of America. There's even greater top news: The National Institute of Medicine recommends that nurse midwives should have a bigger function in providing women's health care.

4. Travel nursing
Travel nursing was created as a method to the nursing scarcity and stays a famous choice for adventurous types. While a few nurses are placed in beautiful locales, you could additionally be positioned in an emergency state of affairs or catastrophe zone. During a strike, a travel nurse can be called to fill the position of a normal employee. RNs work with an agency who suit them with a short-term job opportunity in another city or country. Flexibility and the ability to conform to new surroundings easily are essential criteria.
Travel nursing tends to offer higher-than-common pay and housing can be provided.
To locate travel nursing jobs, go on line. You'll locate extraordinary agencies.
Foreign nurses who would like to work inside the U.S. additionally have possibilities, even though there are standards that ought to be met before they can become qualified.

5. Nurse educator
Share your experience and information with aspiring nurses by means of instructing them. According to the American Association of Colleges of Nursing (AACN), greater than 75,000 certified nursing school applicants were turned away in 2018 partly due to faculty shortages.
AACN says the subsequent decade will see a great range of faculty retirements, developing vacancies at campuses across the U.S.. Also contributing to the shortage is simply too few process applicants with a master's or doctoral diploma.
Want to teach others and join a growing place of nursing? Consider earning a advanced degree.

6. Nurse advocate
The health care system can be a complex maze to navigate for patients, that's why nurse advocacy careers are surging. Health educators and community health workers, such as nurse advocates, are expected to see job growth of 16% through 2026.
As a nurse advocate, you'll constitute a patient, help them recognize their diagnosis, assist with insurance, and be the liaison between the patient and physician. There may be instances in which a patient's ideals won't permit for a certain remedy. A nurse advocate will work with the medical doctor to find a solution.

7. Home-care nurse
Hospital stays may are becoming shorter, but patients still need care once they're discharged. This is why home-care nursing is experiencing a boost in employment. Another factor? Advances in technology allow patients to get hold of more elaborate remedies at home.
As a home-care nurse, your patients will have a variety of backgrounds; you may treat older people, new moms, patients convalescing from an accident, and people with continual ailments.
If you favor to work outside a hospital and build relationships with a regular set of patients, a home-care nurse profession could be a good suit.

8. Case management nurse
The number of older people within the U.S. Is increasing which has created opportunity for case management nurses. As people live longer, it's more likely they'll address persistent or long-term ailments that require professional advice and guidance.
Case management nurses prepare the sort of care a patient will receive, monitor costs and resources, and make sure patients and families are supported.
As a case management nurse, you'll have the unique possibility of offering patient care while additionally serving as an essential decision-maker.

9. Geriatric nurse
The National Council on Aging estimates about 80% of older adults have a chronic condition. Combine this with the growing old baby boomer populace and it spells employment increase for geriatric nurses.
While many of the duties of a staff RN may be the same for a geriatric nurse, you'll additionally focus on treating conditions more established in old age, inclusive of cancer, Alzheimer's disease, and osteoporosis. Since some elderly patients may additionally have trouble communicating their wishes, you'll additionally serve as your patients advocate.

10. Critical care nurse
Agility and good decision-making talents are crucial as a critical care nurse. Many work in a medical institution's Intensive Care Unit, or ICU, treating patients affected by burns, severe cardiac problems, and other grave situations.
As many hospitals expand their ICU's and nursing homes care for very ill sufferers, critical care nursing has grow to be a developing specialty. Critical care nurses ought to be snug with advanced technology and working at a quick pace.Health Information Systems & NursingEmerging technology is changing the panorama of nursing and the use of health information structures (HIS) is a everyday discussion amongst health care professionals. For many nurses, their first creation to HIS is with an electronic health record (EHR), or a digital model of a patient's paper chart. It can consist of statistics from more than one carriers, hospitals, and specialists, and may be accessed at any time of day. EHRs are designed to be confidential and secure.
EHRs had been a long-time coming. More than 15 years ago, President George Bush outlined a plan in which most Americans might have an EHR by 2014. During President Barack Obama's presidency, $30 billion was  allocated as stimulus budget to help hospitals implement EHRs.
A sturdy health information system provides several benefits:
EHRs may be viewed by both patients and providers in different locations.
Reminders can be set for follow-up appointments and tests which reduce the threat for error.
Information from medical gadgets may be robotically transferred to EHRs in place of with the aid of hand.
Medical prescriptions are clearer to read and understand.
Electronic health records may be used to analyze statistics about certain conditions, medications, and outcomes. This can lead to changes in health care.
Many health care facilities are also turning to mobile devices and apps to collect information and talk with patients.
In the 2017 HIMSS Mobile Technology Survey, 70.6% of respondents stated at least some of the facts on a mobile device is uploaded to EHRs.
As with any new technology, there is a getting to know curve. While today's nursing programs educate students about current technology used in the field, you could discover you'll want extra on-the-job education once you emerge as a nurse. During your medical time, study as much as you may about emerging technology.Other Technologies Affecting Nursing
Medicine and era are transferring rapid and nurses may be required to keep up. As you embark on a nursing profession, you'll need to be prepared for a number of the brand new innovations inside the field.Genetics whether or not a affected person is liable to developing a disease. The use of genetics and genomes can also assist become aware of whether or not a parent will bypass alongside a mutation to their child. Since nurses frequently have the most verbal exchange with patients, it's their process to gather as many facts approximately family records and provide guidance to patients based off of test results.
Biometrics can't exist with out confidentiality and security, that is why biometrics is so important in today's speedy-paced health care surroundings.
Biometrics is the scientific technique used to identify people with the use of fingerprints, voice, or different physical qualities. In today's world, many scientific facilities use fingerprints to identify a health care provider. As a nurse, you may be given access to the essential patients facts that permits you to do your job. Flipping through a patient's folder to discover what you need? Not for long.
 The use of social media in nursing has blessings and drawbacks. It can provide networking possibilities and an easier way to speak with fellow students or colleagues. A quick scan of Facebook and Pinterest will additionally show you that nurses use social media for help and levity.
There may be a dark side to social media, however. Nurses need to be careful not to post disparaging comments or facts that violates a patient's privacy. The American Nurses Association identified social media's function in nursing in 2011 with its Principles for Social Networking and the Nurse: Guidance for the Registered Nurse.
Nurses and nursing college students are advocated to apply this aid to equip themselves with the do's and don'ts of social media.
---
Major Landmark Highlights in Nursing History
Highlights in Nursing History
Here are a few moments in history that helped shaped the nursing profession.
1900 › The first issue of the American Journal of Nursing was distributed.1902 › Linda L. Rogers becomes the first school nurse.
1913 › The War Department accepts the Red Cross enrollment as a reserve for the Army Nurse Corps and Navy Nurse Corps.
1921 › The first class (512 student nurses) graduates from the Army School of Nursing.
1934 › The National Association of Colored Graduate Nurses establishes its New York City headquarters.
1940 › American Nurses Association forms a section for male nurses.
1945 › ANA collects uniforms and clothing for nurses in war-torn countries.
1952 › ANA dues increase from $3 to $5.
1967 › It's estimated there are 640,000 practicing RNs.
1973 › The number of RNs jumps to 815,000.
1987 › AIDS treatment and testing programs and community-based health services are recommended by ANA.
1995 › 25,000 nurses from across the country protest nurse cutbacks and improper use of unlicensed personnel.
2001 › Nurses play an instrumental role at hospitals in the wake of September 11. Many volunteer to help with rescue efforts.
2014 › "Nurses Leading the Way" is the theme of National Nurses Week.